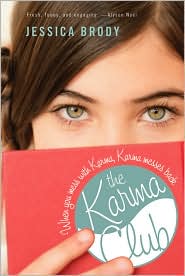 The Karma Club by Jessica Brody
Publisher: Farrar, Straus and Giroux
Age Group: Young Adult
Pages: 272
Source: Publisher
Madison Kasparkova always thought she understood how Karma works. Do good things and you'll be rewarded, do something bad and Karma will make sure you get what you deserve. But when Maddy's boyfriend cheats on her, nothing bad comes his way. That's why Maddy starts the Karma Club, to clean up the messes that the universe has left behind. Sometimes, though, it isn't wise to meddle with the universe. It turns out Karma often has plans of its own.
I really enjoyed this book, in fact i LOVED it! It was such a light, fun, and original read, to put it simply we all know the saying "what goes around comes around" or good deeds get rewarded or something like that. But In The Karma Club,Jessica lets the characters experience the wrath of Karma. So if you want to take karma in your own hands *CAUTION!* is all I'm going to tell you.
The characters are great. It was almost like they were real. The book starts out and the characters are full of life and personality. You can't help but love them. Maddy is the main characters and of course my fave. She pretty much owns this book. The trio(Maddy, and her BFF's Jade and Angie) go through some life changing experiences. It all started with revenge.They want to get revenge on their ex's, since they totally broke their hearts and karma not doing it's job. That meant it was time for OPERATION MR DEEDS(aka taking karma into their own hands). Everything is pretty much going as planned, but then a developing relationship between Madison and popular hottie Spencer starts to bloom... karma's not done yet.Their friendship, romance, and maybe their lives... is one the line.
With Jessica's fun and creative writing and her honest witty characters. I know people who love Lauren Barnholdt and Suzanne Young will love this book. It's definitely going to be one of my all time faves.