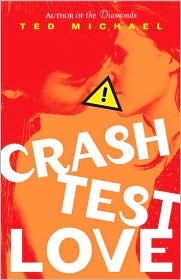 Crash Test Love by Ted Micheal
Release Date: June 2010
Publisher:Delacorte Books for Young Readers
Age Group: Young Adult
Pages: 352
Source:
Publicist
The last thing Henry Arlington wants is a girlfriend. He's just very, very good with girls—reading their body language, knowing what they want to hear, and more importantly: getting them into the backseat of his car. But all that changes when he meets Garrett Lennox at one of the many Sweet Sixteen parties he crashes.

Garrett thinks she's done with guys. She was dumped by her ex when she moved from Chicago to Long Island, and now she realizes that she needs to find out who she is by herself, instead of with a boyfriend. What she really needs is some good friends.

Fortunately for Garrett, the J Squad—the "it" girls of East Shore High School—want her in their clique. All she has to do is pass one little test: get East Shore god Henry Arlington to take her to one of the biggest Sweet Sixteens of the year, then dump him in front of everyone.

Garrett has promised herself not to fall for another guy, so playing with Henry's heart shouldn't be hard. Right?

And Henry doesn't fall for girls, so when he and Garrett start to click, it doesn't matter. Does it?
As William Shakespeare once said, "Love is blind," or in this case, the lovers may be, as Henry and Garrett fall in love—and into the trap that awaits them. Because neither of them can even begin to see what the girls of Henry Arlington's past have in store.
My Thoughts:
I thought it was going to be like another one of those teen romance movies like She's All That mixed with a little John Tucked Must Die.
Crash Test Love
was different, it's about honesty and being true to yourself. It might not have ended the way i wanted but it left open the possibility, and i think that was the point.
The characters were uniquely crafted and well developed. Henry is known as a "playa" but it's his cover up.He doesn't fully trust anyone and yet He has everything, but nobody has ever gotten close enough to REALLY know him. Not until Garret comes in the picture. He begins to open up i really started to like him. Garret is independent and she knows what she wants. But the relationship between Garrett and Henry is rocky but they are soo good for each other. Henry has so much to offer. I remember him saying something about decisions, that there is no right or wrong but just decisions in life. That's what Garrett does she makes her decision. It may have been a selfish one but it was the right one for her. The J Squad is your average mean girl group*hated them* But i found London to be a little dot different. Duke and Nigel are funny and support Henry in everything.
I really enjoyed
Crash Test Love
!! I was happy, sad, ans surprised all at the same time, once i finished the last page. Ted is an awesome writer, i liked the little email chats, and the dialogue conversions in this book. I had my mix feelings but its definitely about making YOUR decisions,even though it might not always please others. I think Ted wants the reader to look beyond the ending of the book...:D
Cover:

♥

♥

♥

♥

♥
YA-ness: PG-15+
(few F-bombs, little bit of a sex scene, drinking involved)