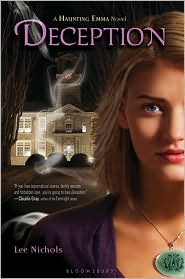 Today I'm super excited to be interviewing...
---

When Emma Vaile's parents go missing while away on a mysterious business trip, she's left all alone in her creepy old house. But her brother's very cute best friend, Bennett Stern—Emma's knight in J. Crew armor—arrives unexpectedly to whisk her away to New England. There, Emma settles into his family's museum-like mansion and enrolls at an old-fashioned private school. She quickly finds friends in the popular legacy crowd at Thatcher and spends her free time crushing on Bennett. But the eerie visions she's been hiding from everyone have gotten worse. Emma has memories of Thatcher that she can't explain—it's as if she's returning home to a place she's never been. Finally, Emma confides in Bennett and learns she is a ghostkeeper, a person who can communicate with ghosts. Bennett brought Emma to Thatcher to protect her, but now he needs her help tracking an other-worldly murderer.

A rich New England setting filled with mystery, tradition, and prep-school intrigue make Deception the perfect choice for fans of series like Kate Brian's Private, as well as all those paranormal fans. The shocking ending will leave readers desperate for book two.
Biography
LEE NICHOLS is the author of five novels for adults, including Tales of a Drama Queen and Hand-Me-Down. She lives in Maine and is married to novelist Joel N. Ross. Deception is her first novel for young adults.
______________________________________________________
Did you notice a change in your writing going from Tales of a Drama Queen to Deception? Was it easier/harder? Did you notice your writing style changing?
These are both firsts for me--Drama Queen was my first novel and Deception is my first YA--and in some ways the experience was the same, because writing for a teen audience felt new for me and I wasn't quite sure of what I could get away with. For some reason Deception came easier to me than any of my other books. I think I just love Emma, the main character. And my style will probably always be my style--slightly funny and sarcastic even in the face of tragedy and danger.
Your own six-word memoir.
Despite complaints has lived charmed life.
What was your favorite book growing up as a teen?
This question is always like pick your favorite child to me, though I only have one, so that answer is easy. Well, if you don't count my husband. Favorites from school: Anything by Salinger or Steinbeck. I actually got to read a Russian book called Novel with Cocaine, which may have been my favorite because it had cocaine in the title and I couldn't believe I was allowed to read it in school. In retrospect, my World Lit teacher may have been cooler than I realized. Out of school, everything trashy. I adored fantasy and sci-fi novels and when I was about thirteen, teen romances were like ice cream to me.
When you were young, what did you want to be when you grew up?
Marine biologist. Doesn't everyone? Oddly, my best friend from high school actually became this.
What is your ultimate vacation destination?
There are so many places I really want to see: especially Italy, Japan, and Greece, and more of France and England. But when I think of vacation, it always involves sun and a pool, with unlimited fruity cocktails.
What is something about yourself that most people would be surprised to know?
How much I love David Tennant as Dr. Who.
Do you recall how your interest in writing originated?
I think from being a big reader as a teen.

Is there anything you find particularly challenging in your writing?
All of it. But especially turning off the internet and opening my Word document.
A movie is being made of ONE of your books. Which book is it, and who will star as the main characters?
Hand-Me-Down about a woman who falls in love with a man who's dated both her older sisters. At the moment, I'm in love with Carey Mulligan and Sam Worthington, so she could be the girl and he could be the guy.
Is they anything else you would like to add?
Thanks for having me. This was a fun interview!
**Thanks Lee for letting me interview ya! Hey we both want to go to Italy or Greece. Let me know when your going lol :D
**
______________________________________________________
Since this is a Blog Tour,Deirdre has kindly offered a copy of HAND ME DOWN to giveaway(Thanks!)
+ 2 Spread the Word
US only