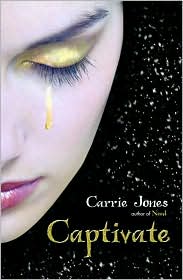 Title: Captivate(Need #2)
Author: Carrie Jones
Pub. Date: January 2010
Publisher: Bloomsbury USA
Format: Hardcover, 288pp
Age: Young adult
ISBN-13: 9781599903422
ISBN: 1599903423
Zara and her friends knew they hadn't solved the pixie problem for good. Far from it. The king's needs grow deeper every day he's stuck in captivity, while his control over his people gets weaker. It's made him vulnerable. And now there's a new king in town.
A turf war is imminent, since the new pixie king, Astley, is moving in quickly. Nick nearly killed him in the woods on day one, but Zara came to his rescue. Astley swears that he and Zara are destined to be together, that he's one of the good guys. Nick isn't buying it, though Zara isn't as sure -- despite herself, she wants to trust the new king. But it's a lot more than her relationship with Nick that is at stake. It's her life -- and his.
My Thoughts:
Captivate was such an AMAZING book. After Need, i was like there has to be a second book. Carrie Jones is an awesome author. Her writing really shows it. She captures you and you can't help but stay up late and just get lost in the book.

So Captivate picks up where Need left off. But In Captivate things get a little bit... intense.I've gotten to know the characters more in this book. Zara is an awesome, she has has grow. Nick is just the protector of things, he has his secrets.

New characters are introduced and the world of the Fae.

There might be a like bit of a love triangle involving the new character Astley(his name means star...how cute) I find him and Nick to be kind of similar, they are both sweet, macho*nick too macho*, and they have their secrets. But Nick....he means while, but sometimes he was annoying. To be honest i like Astley more, he not as smothering as Nick is, or controlling.Devyn and Issie are all around the best friends you could have and cute together. The Character are strong, brave, and caring. I mean can you imagine Zara with a sword?!?
Captivate has alot of twist and turns, let me just say "things are about to hit the fan". I was sad at how things ended in Captivate but i'm happy theres going to be a third book!*anxious* So if you haven't read Need, you must!