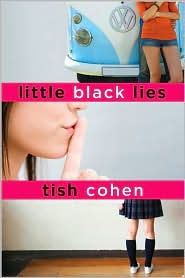 Title: Little Black Lies
Pub. Date: October 2009
Publisher: EgmontUSA
Format: Hardcover, 320pp
Age Range: 12 and up
ISBN-13:
9781606840337
ISBN:
1606840339
Source: from Agent/publisher

Sara Black is tiptoeing across a fraying tightrope.
As the new eleventh grader at Anton High – the most elite public school in the country – she sticks out like an old VW bus in a parking lot full of shiny BMWs. But being the new kid also brings a certain advantageous anonymity.
In Anton High's world of privilege, intelligence, and wealth, Sara can escape her family's tarnished past and become whomever she wants.
And what's the harm in telling a few little black lies when it can lead to popularity? That is, until another it girl at Anton becomes jealous of Sara's social climbing.
With her balance evaporating, one small push could bring Sara crashing down.

Hmmm...Little Black Lies is an awesome book! I loved it. It had all the good qualities in a book i was looking for, it was well written, witty, and the characters were believable. I loved the message in the book, as the story goes on Sara learns some important lessons about the value of a good parent(i mean her dad is awesome), the love of a friend, and the importance of honesty.Because a little black lie can lead to just a BIG web of lies.


Sara was my favorite character, being the main character she took on those challenges in life like her dad's OCD, her parents divorce(her mom being so far away in) no friends, and a new school.I think a lot of teens can relate to her. The only problem i had with her was the lies, but i wasn't surprised that she was just making an invented life to impress her peers well the High School Mean Girl and her clique. At one point in the book I was so mad at Sara because of what she said about her father. At times i really did think she didn't deserve a father like Charlie.But that's what made her believable because she had her flaws, it made her human. I liked Poppy too! I wish she had a bigger role in the book. I guess we can call her the weird girl who video camera's everything but she knows who she is and what she wants. All The characters were awesome(LEO!!)They well developed, they had strong hero/heroine personalities.
I liked the way Tish Cohen dealt with lying(being a troublesome/difficult issue). As much as i like Sara i didn't like her lying. But I'm not angel either.In the end it proved how much trouble you can cause and how much you can hurt people. "Honesty is KEY",as my teacher would always say and never to abandon the people you love most. As for the romance, It wasn't a big part of the book, but when there was some(tease lol) it was sweet. The ending was perfecto! and Leo and Sara are a cute couple. I'm happy with the ending.So if you haven't read this book you should!