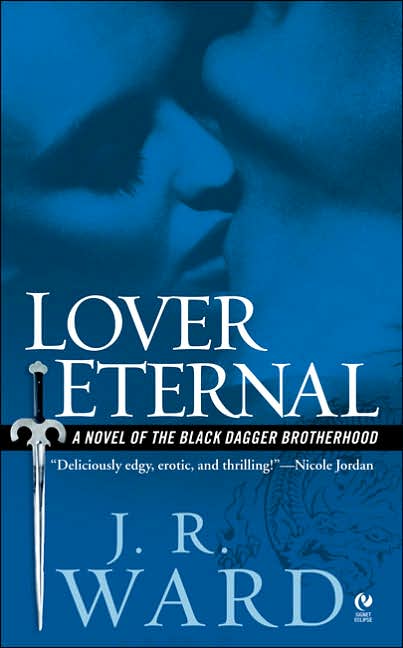 Title: Lover Eternal(BDB, #2)
Author: J.R. Ward
Publisher: Penguin Group (USA)
Pub. Date: March 2006
ISBN-13:
9780451218049
464pp
Age: 16+
Series:
Black Dagger Brotherhood Series
, #2
In the shadows of the night in Caldwell, New York, there's a deadly war raging between vampires and their slayers. And there exists a secret band of brothers like no other - six vampire warriors, defenders of their race. Possessed by a deadly beast, Rhage is the most dangerous of the Black Dagger Brotherhood...
Within the brotherhood, Rhage is the vampire with the strongest appetite. He's the best fighter, the quickest to act on his impulses, and the most voracious lover-for inside him burns a ferocious curse cast by the Scribe Virgin.
Possessed by this dark side, Rhage fears the times when his inner dragon is unleashed, making him a danger to everyone around him. When Mary Luce is unwittingly thrown into the vampire world, she must rely on Rhage's protection. Knowing that Mary feels the same intense animal attraction, Rhage must make her his alone...
Let me just start off saying I LOVE BLACK DAGGER BROTHERHOOD SERIES! o.k. so, i read this book a while back, but it's still fresh in my memory. I have to say this book and Lover Awakened are more favorites.

The second book in the series continues pretty much where the first one left off. More info about the brothers and their slayers. With each book we get a background on the brother centered with each story. With this we learn all about Rhage and his "demon" side.


So this book is and the brother Rhage,
Rhage is a womanizer at first,i didn't like him in the beginning but, as the storyline progressed and his true nature starts to reveal itself, he was easily one of my favorite heroes of all time. I mean for such a bad-ass, he was so tender and loving with Mary. His sacrifice at the end for her was amazing. I loved him. He is worthy of a happily ever after.


Mary is also my favorite character. I really liked her. I felt her insecurities, her hope that she may get better and the love she had for Rhage and the beast within him.


It's a great story with more of the same action, romance and story as the previous book. If you've read books one and two, keep reading they just get better and better.
rating 5/5 hearts
♥
♥
♥
♥
♥